So..Apple does innovate after-all. Here's the new Apple Watch – Ta Nahh!
Apple have just given us another reason to upgrade to the iPhone6. Following our article predicting the Apple Watch as the next big move Apple should make, Apple have taken their position in the hugely expanding market of Wearable Technology. Going for the classy end of the market Apple have named their new wearable smart-device, the 'Apple Watch'. The latest Apple product was announced on September the 11th (2014) by Tim Cook, CEO who is now successfully leading the company into new waters.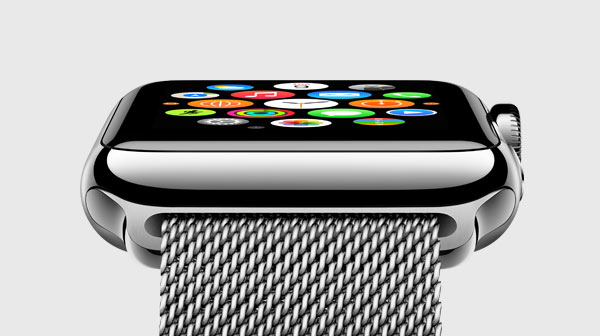 This step into wearable smart devices, not only marks a new direction for their product portfolio but also gets over the problem of creating their metaphoric 'second album' without their band leader "Steve". Mr Steve Jobs had been in charge throughout all other previous product developments and launches of this magnitude. The Apple Watch enables Tim Cook to make his own mark and show the world Apple continues to do what it is recognised for, and do it well. This latest development also has the advantage for Apple that Tim had been a CEO of Nike and led the development of the Fuel-band.
But what exactly is Apple Watch?
The watch is a small sapphire-coated smartwatch, an IOS friendly wearable smart device that interacts with your iPhone. Its release date is early 2015. As stated on the Apple website the Apple Watch collection is described as follows; "The Apple Watch collection features highly polished stainless steel and space black stainless steel cases. The display is protected by sapphire crystal. And there's a choice of three different leather bands, a link bracelet, a Milanese loop, and a band made from high-performance fluoroelastomer."
What will it do that is different from other wearable devices?
The Apple Watch will bridge a gap between the iPhone and iPad. With the Apple-Watch receiving notifications from messages, Facebook updates and Apps. It also has a range of Health related tech built in. Applications developed for the Watch will be available from the IOS store, with the applications in many cases being scaled down or adapted versions of the iPad Apps available.
This watch is suitable for those who have an iPhone6,  would benefit from an exercise monitor and having notifications on the wrist instead of taking out a larger phone every 5 minutes.
The Apple Watch does boast a range of Apps already, before the launch Early 2015. As seen in the Apple Watch video, these include iMessages, Health, Calendar, Weather, Mail, Photos, Camera's shutter button, Passbook that now include Apple Pay and even Apple Maps for navigation.
The smartwatch takes cues from the Nike FuelBand SE and other fitness trackers with health sensors and apps, a must for any serious wearable gadget these days.
What about the design of the Apple Watch?
Simply put, it is a stunner. Before this watch the two smart watches that caught my eye were the 'Moto 360' and the 'Pebble'. Apple have made their own design and product decisions to create a Watch that stands out from the crowd and is characteristically Apple. You don't have to study the watch to realise it is an 'Apple' product. The curves, the details – you are confident just from looking at its chromatic design with cues from the iPhone that every conceivable detail has been considered and that the feeling of the straps will give comfort and the tech will work. It certainly looks like a stylish high end product – with a comfortable feel and practical use in the modern world of communications. Handling not just communications with the outside world but the vast array of data available to monitor your own body's movement and your health. View the gallery of Apple Watch design options.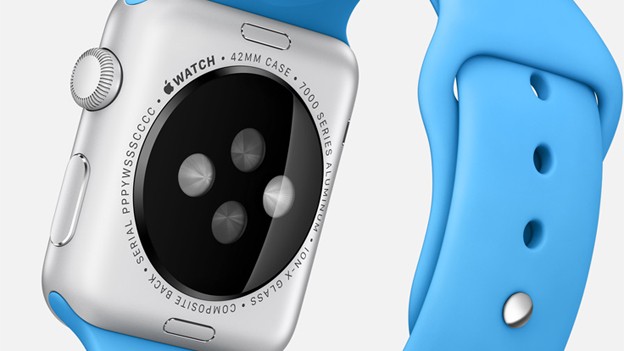 The Apple Watch collection includes 18 options and 3 ranges, the "Apple Watch" which is the standard, the "Apple Watch Sport" for sportsters and the "Apple Watch Edition" which mixes in 18-karat yellow or rose gold for a premium look.
The strap is the main difference between the 18 options available as well as their being two screen sizes 38mm and 42mm – which would be Male / Female. There is enough scope for changeability that persoanlisation has been factored in so you can make it your own. With customisation possible both in terms of the strap as well as the digital covers. Accessories will no doubt abound.
What about the price of the Apple Watch?
"High-end tech from a Global Brand ain't cheap!" I would guestimate that this would be on the market for £360. All Apple products are well made and tap into an audience who love design as well as functionality. When a product does more than just its function and satisfies other needs which are less tangible the question of value is a broader one – making it easier for the customer to pay what's asked, certainly if know-one else has a better answer. This is the stuff of 'magic' that Apple pulls off better than anyone else. We look forward to Early 2015 when the products are launched. I'll hold out on my mobile phone upgrade until then as well as buying a new watch. I may even have to get some Apple stock before it goes sky high again.
In Summary
Times move on, and so does the time-piece itself. Time to get a new iPhone and Apple Watch and start clocking the calories. There is a new confidence for Apple based on this new product and managerial show. A definite right move by the giant company which was beginning to loose ground. So far the execution of this re-invention is being carried off 'Jobs style'. Proving Tim Cook to be the right man at he helm. Time to get some Apple stock before it goes sky high again.