What is SEO & Search Engine Marketing?
Search Engine Optimisation and Search Engine Marketing both work towards driving an increased amount of targeted website traffic from search engines based on the keywords, devices, phrases & locations of a user.
Search Engine Marketing (SEM) is a term used in reference to the paid placement in search results and Search Engine Optimisation (SEO) is to do with the 'organic' listing of content by the search engines, outside of any advertising agreement.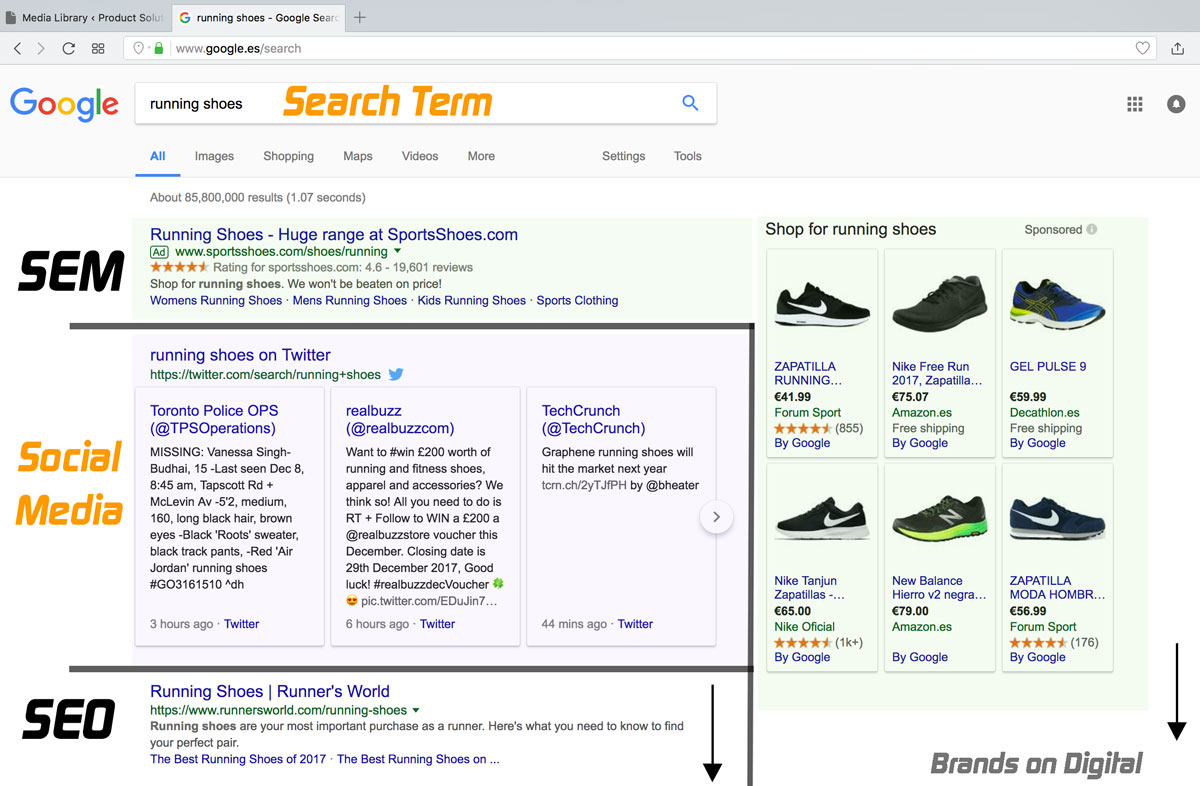 What is the difference between SEO and SEM?
SEO & SEM both require an understanding of what people are searching for, who they are and how the brand can be fit into the equation based on their searches. The importance of understanding your target audience and relevant content is the key to success. Simply put, if is isn't readable by search engines & isn't of interest you need to rethink your content marketing strategy.
Some companies find creating new engaging content a struggle whilst others have an abundance of amazing content but not in the right format for search. Both situations require strategic planning and management in order to appear competitively within search engine results & convert valuable traffic.
Whether you are placing an Advert in the search results or wanting to appear in the top 3 positions of a search engine results page. If you don't have the relevant optimised content then we can guarantee you're missing out on valuable website traffic.
Optimising content for search engine results typically focuses on the 'on-page' elements of a website. SEM is normally in reference to the management of paid placement, reputation management, content distribution and listings. These are referred to as 'off-page' elements. So a backlink, for example would by this definition be regarded as Search Engine Marketing as it is managing the process of adding external website links to your website.
Search Engine Optimisation

Search Engine Optimisation is the process of making improvements to your websites on-page elements, e.g the Title meta-data, page loading speed, the caching system and others. This process of on-page improvements focus on improving the contents ability to be read by robots and by humans. The better the content is interpreted against Google's search algorithm then the content will appear higher in the search results and therefore gain more website visitors.
SEO Impacting Forces

There are different factors that impact your websites ability to appear higher within search engine results and some are more obvious than others. Above is a quick list of factors that you may or not have considered in your current SEO. If you are interested in understanding what other factors are limiting your website then we can run an audit for you and discus our SEO & SEM monthly services.
To give you a further idea as to how Google's search engine algorithm works, it uses implicit data as well as traditional ranking factors, to determine a pages quality and search engine position. The image below shows an example of implicit signals (i.e signals implied from a user experience) and classic factors (e.g meta-data and title ) used by Google to determine your content within search engine results.
SEO Ranking Factors implicit and traditional factors

For a breakdown of elements to improve your page quality, you may also want to refer to this handy reference for the anatomy of an ideal optimised webpage. We can go into more detail for each aspect, but this is a good rough guide of what you should be looking for when it comes to optimising your webpage for improved search engine results.
SEO on-page ranking factors
We manage SEO & SEM for a range of businesses and would welcome the opportunity to discuss with you how we could help your brand marketing through SEO & SEM. To increase your brand presence, competitiveness lead generation and overall relevance to your customers and stakeholder.
Our approach is about firmly understanding your business, your customers and working with you to deliver the best strategies that competitively position your brand in search results and beyond.