As Mobile payment transaction volume will grow by 42% to reach 26.9m in 2016, the technologies that make mobile payments happen are all the more important. Near Field Communications (NFC) and Beacon (BLE) technology both give brand marketing new levels of creativity in the context of the customer journey and mobile payment solutions. They both combine clever contextual messaging, new levels of service and seamless payment solutions.

Here we explain the key differences between the two technologies NFC & BLE to help you understand their key differences when it comes to implementing your own mobile payments solution. The infographic below also considers the question, "Could the Beacon replace NFC technology?"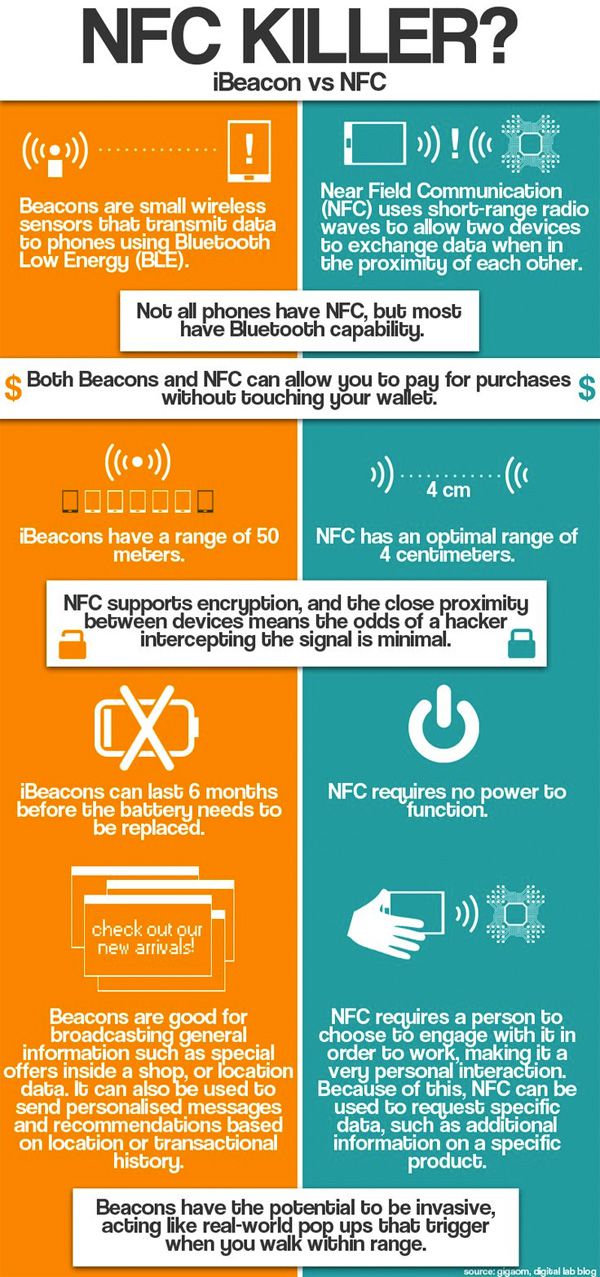 The Key differences between BLE & NFC
Both beacons and NFC support mobile payments in-store.
Beacons are small wireless sensors that talk to smartphones via Bluetooth Low Energy (BLE), while NFC uses short-range radio waves to allow two devices to exchange information between each other at a short distance, without the need for battery power.
iBeacons have a 50 meter range, NFC's optimal range is 4 centimeters (164 feet, 1.5 inches).
Beacons can push content, such as offers, location data, or personalised recommendations based on a customer's preferences or shopping history. A customer must initiate interaction with NFC.
Not all phones have NFC, but most have Bluetooth although Bluetooth needs to be activated to work with iBeacons.
NFC supports encryption, and its hacking risk is minimal due to its close proximity between devices.
Conclusions
NFC & Beacons can be used together to get the best out of each technology. NFC's strength is encryption and security using the touch of a device to make a payment or transfer content. The strength of iBeacons is the ability to broadcast messages to a wider audience more intrusively than NFC. So both have their strengths, depending on the context of the customer journey and brand experience.

Whilst iBecaons boasts highly impressive promotional figures for retail, NFC technology is more linked to the sales figures made via mobile payments. In 2016, NFC payments are forecast to post a 59% year-on-year increase from 2015.

Key Takeaways
BLE forecast to deliver 1.6bn coupons a year by 2020
Almost 1.6bn coupons will be delivered annually to consumers via Bluetooth Low Energy (BLE) beacon technology by 2020, Juniper Research forecasts. "This is up from just 11m this year, as retailers seek to develop proximity marketing campaigns in and around their stores," the firm says. "Spend on digital retail marketing is set to increase from US$174bn in 2015, to $362.1bn by 2020."

Mobile payments to grow 42% in 2016
Mobile payment transaction volume will grow by 42% to reach 26.9m in 2016, up from 18.9m in 2015, research from Future Market Insights predicts. "In terms of value, this will represent nearly US$768.78bn, up from $549.91bn in 2015," the firm says. "Payments made through NFC, widely touted as the technology of the future, will witness the highest year-over-year growth rate, increasing at over 59% in 2016."

Thinking of Investing in NFC & BLE technology?
Investors should be aware that there are many industry forecasts and projections that are sometimes at odds with each other. If you are interested in mobile payment technologies and want to know more, we can provide you with expert consultancy and strategy to grow your business with these disruptive technologies.