Business
The Best Global Brands of The Last 15 Years
The Best Global Brands have changed over the last 15 years. These are some of the highlights of their movements between the years 2000 to 2015.
Apple's rise in 2011-2013 led to overtaking Coke as the current #1 Best Global Brand. 

Google's rise to prominence starting in 2008 and becoming the 2nd Best Global Brand. 

Nokia's fall from grace as it was taken over by Microsoft to stop it falling into obscurity.
McDonalds is the only brand to maintain the same position after 15 years as #9 best global brand.
Microsoft and IBM have been surpassed by Google & Apple since 2011, only in the last 4 years.
Toyota has risen from #10 position as a leading global brand to #6th, a position previously taken by GE.
Intel have dropped from #4th to 9#th position, which seems to continue south as mobile takes over more.
Coke & McDonalds are the only food brands holding in the top 10.
Tech Companies dominate the top 10 best global brand positions.
The main categories for the best global brands in the last 15 years have been in Food, Tech, Motor & Diversified Business.
Although not shown, Facebook is the new riser although 23rd position holds promise for the top 10.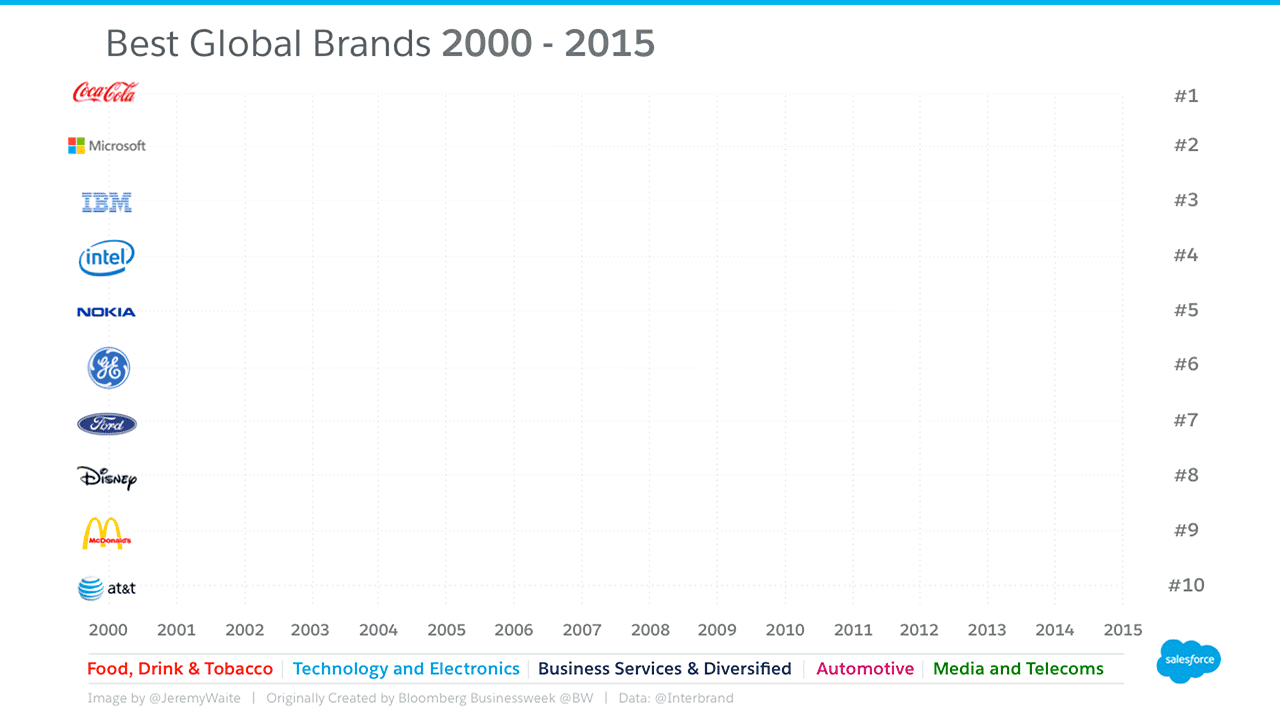 For more information relating to brand positions in the current top 100 more information visit Interbrands The Best Global Brands of 2015 Where you can also see the current top risers in 2016.
The Global brands which have been recognised by Interbrand as rising in brand value the most, includes the following brands: 3m /Adobe / Mastercard / Nissan /Hermes / Zara / Facebook / Nike / Amazon / Toyota & Apple. In our next post we will be looking more closely at each top rising brand to take a closer look at what makes them the rising Best Global Brands of our time.