Facebook's acquisition of Instagram in 2012 keeps looking savvier and savvier. According to a new report, people posting and sharing on Instagram will account for almost one-third of all social media users worldwide by 2021.
The digital marketing research firm eMarketer estimates that 30% of all social network users worldwide, or nearly 928 million users, will be Instagram users in four years — up from 24%, or 593.7 million users, worldwide this year.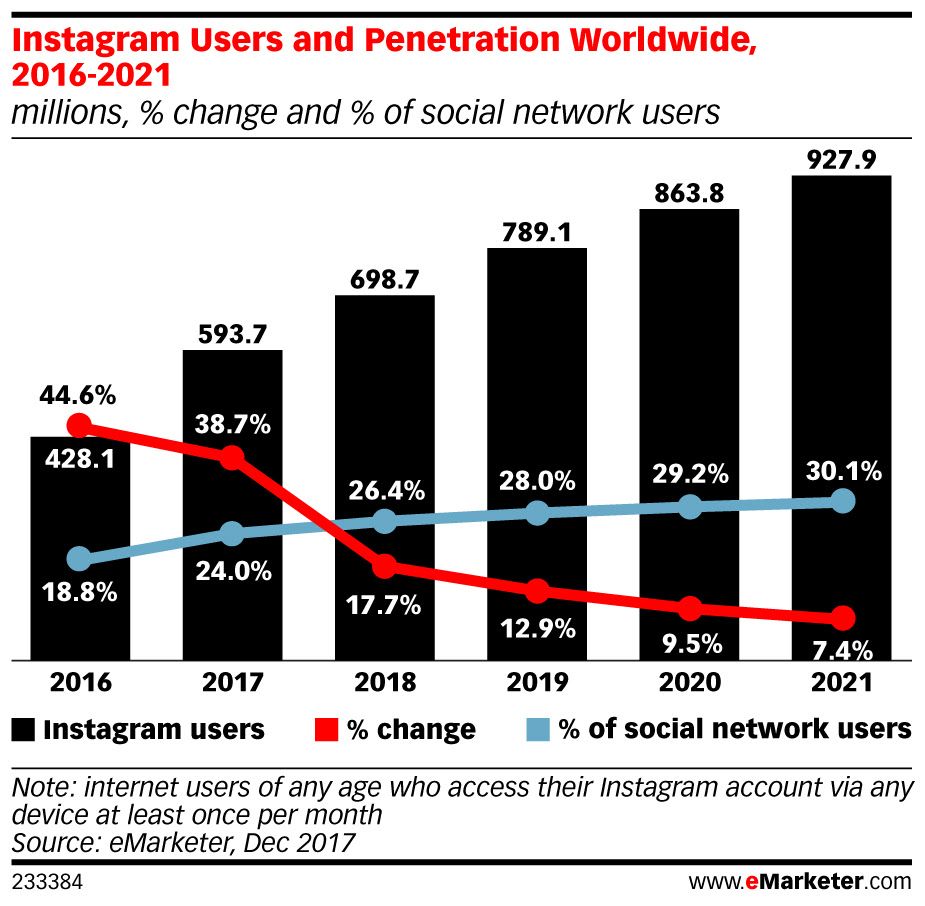 Instagram user growth continues to climb, thanks to a steady stream of new product updates and features.
eMarketer analyst Cindy Liu chalks up the photo-sharing app's strong growth to a steady stream of new product updates and features rolled out over the last 24 months, including live video, and virtual stickers and masks that compete well with offerings from Snapchat and other Facebook-owned services like Messenger.
One of the biggest drivers of Instagram growth? Instagram Stories, a feature launched in August 2016 that appears atop Instagram users' feeds and lets people string together several photos and videos. In November, the social network revealed that 300 million people now use Instagram Stories each day, partly driving an increase in overall use of the Instagram app. (Instagram's CEO has acknowledged that the company copied Snapchat [SNAP] with its Stories feature.)
That's pretty stellar performance for a startup Facebook purchased for $1 billion back in 2012. The number of Instagram users has all but exploded in those five years or so, from 30 million users at the time of the acquisition to the estimated 593.7 million users it will have by the end of 2017. Indeed, Instagram has become so successful, brands such as Nike (NKE), Sephora and yoga-centric brand Lululemon
(LULU) have all made concerted efforts to build communities with tens of millions of followers so they can target them with ads. Like its parent company, Facebook, its growth hasn't been without its fair share of the bumps along the way — some users scoffed initially at some changes like the introduction of ads — but that clearly hasn't hurt Instagram's overall user growth.
Perhaps more surprising is where all that growth is happening. According to eMarketer, the U.S. isn't even in the top 10 markets where Instagram is most pervasive among social media users. Instead, Sweden, Norway and Australia are the countries where social media savvy folks use Instagram the most.
Credit: JP Mangalindan, Chief Tech Correspondent for Yahoo Finance.