Online advertising
Brands have embraced social media and online advertising within a relatively short space of time, so what does the future hold for online advertising?
There's no doubt that mobile devices and social media networks have together transformed how brands advertise and communicate. 5 years ago the digital marketing landscape looked very different.
Advertising models
For example 5 years ago the amount of advertising spend on TV was much higher as it had less competition. Let's call this form of advertising the 'One to Many' advertising model. The shift has since moved towards large advertisers taking up social media to advertise. We can call this a 'Many to Many' advertising model, a fancy way of saying social media if you like. This change has been enabled by the power of social networks to open up the channels of communication between individuals, who, by pulling in all their friends, create their own tribes (Seth Godin reference), in which they hold a degree of influence .

Social media platforms such as Facebook, YouTube, Twitter, LinkedIn, etc are great for advertisers to promote rich media content that encourages engagement. Content created to be shareable, eye catching and engaging to the point that the individual shares or participates within there like minded 'tribe'.
Large corporates had the fear of social media because it took away their control. However the most successful companies advertising in the last 5 years have embraced social media and integrated it into their campaigns and continue to do so. The online advertising spend has increased as a result as shown below.
We are all Ad men now
Another factor increasing advertising spend as a whole is who is advertising. Advertising used to be for the big boys with the big bucks, the Ad Men of their day. No more, as you can slap a £5 on a post and promote it to your friends grandmother if you like. This freedom for smaller agencies and businesses to also control their own advertising, to reach niche audiences, has increased the overall spend of online advertising.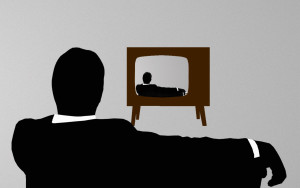 Accelerated Growth
US online Advertising spend in the first quarter of 2015 represented $13.3 billion, a 16% increase from the previous years record setting figure of $11.4 billion.
"Digital screens are an indisputable part of consumers' lives," said Randall Rothenberg, President and CEO, IAB. "In turn, interactive is taking on an even more vital role in today's marketing mix – and these historic figures confirm its growing importance."
"Brand marketers need to be where the consumers are – and as of today, that is unquestionably on digital," said Sherrill Mane, Senior Vice President, Research Analytics and Measurement, IAB. "This double-digit growth speaks to the incredible popularity of interactive screens."
"The rise in year-over-year figures is the direct result of brand and media agencies' increasing commitment to digital marketing," said David Silverman, a partner at PwC US. "It is clear that interactive has become an imperative in reaching key demographics with tailored messaging and creative." (Referencing IAB June 2015)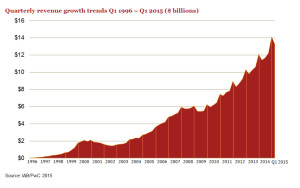 Tech Trends & Advertising Opportunities
New trends will be power the next generation of advertising opportunities for brands. Further advances in the following areas of technology could yet provide many new opportunities for brands and advertisers to engage with their audiences in more places and new contexts. Some of the growth areas in technology creating new possibilities for advertisers include:
1) Wearable technology
2) In-car technology
3) Digital Signage
4) Second Screen Technology
5) iBeacons – Service Area technology
7) Micro payments
Social Media Currently leads the way
Social Media Channels are developing new opportunities for advertisers to sell their products within the apps rather than having to go to landing page. For example;
Twitter: Adding a buy now button to make purchases in App & Lower Ad Spend limits
Pinterest: Buying within the App
LinkedIn: Lead accelerator offering & Display advertising
Facebook: Lookalike audiences
And Google is continually improving its offering for large advertisers and smaller ones too.
Google Adwords: Performance bidding & Real Time bidding (RTM)
However Apple introduces the mobile ad blocker?
Conclusion:
With many new possibilities for consumer engagement using digital channels, brands will need to keep up with trends in buyer behaviours as well as the advancing technology behind the advertising platforms.
Content and advertising have merged to form a similar position as marketing content is a form of advertising and advertisers have spent more money pushing content as a part of their advertising.
The future of advertising is evidently more targeted, personalised and multi screen. Using mobile as a powerful tool to provide a deeper context to advertising. Maybe in the future, if all goes well, we will actually be happy to receive an advertisement instead of being overwhelmed.